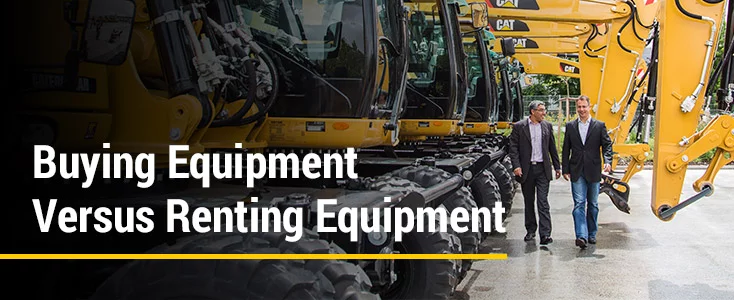 The debate between buying and renting is something we hear in a variety of industries — from deciding between renting an apartment or buying a house, to leasing or purchasing a car. This same debate exists when it comes to construction equipment. There are several variables to take into consideration, and it can be overwhelming. To complicate things even more, the decision doesn't end with buying or renting. Even after you've decided, there are still more questions to ask and decisions to make. For example, if you decide to buy, you'll have to choose from new or used construction equipment for sale.
The global construction equipment market is projected to grow almost 20% from 2014 to 2017 to reach $192 billion. There are many people around the world wrestling with this decision — you're not alone! Deciding what's going to work best for you and your company takes time. It's a lengthy process, and if it's done properly, there's a lot of time invested in assessing and researching each of these variables as they pertain to you and your company. In order to help you, we've included a list of the key questions you'll need to take into consideration when you're deciding between buying and renting construction equipment.
Equipment Maintenance
The majority of construction equipment isn't small, and in order to have a machine that runs smoothly, it needs to be taken care of. It will need routine service, and you have to be prepared to fix it if something goes wrong. Do you have staff members and a facility in place to do this work as needed? If you do, it might be a sign that you're ready to take on your own fleet of equipment.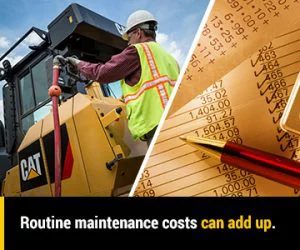 If you don't, do you have a relationship with a nearby company that's willing to help you keep up with your equipment maintenance? Can the work be done in a timely manner? What will it cost you? These are a few of the questions you need to consider as you think about purchasing your own equipment.
One of the benefits of owning your own equipment is having it whenever you need it. If something goes wrong, or it's in the shop for routine maintenance, it could mean missing out on a job. And even if it's just routine maintenance, those costs add up.
Job Location
It's important to remember that, while the location of your equipment storage and maintenance may be consistent, the location of your job site is not. Contractors travel different distances for their jobs. A local contractor may stay within an hour or two of their location to complete jobs, while a general contractor may travel across the state. While travel may not be something that comes to mind when you're trying to decide whether to rent or buy, the reality is the price of gas isn't cheap, and hauling large equipment can be cumbersome if you don't have the right tools at your fingertips.
There are a few things to consider in regards to your job location. First of all, if you're a local contractor, you don't have as far to travel, so this cost is less for you whether you own or rent (assuming you have access to a rental equipment nearby). If you're a general contractor, are you often able to get equipment from a rental company close to the job site? If so, will they deliver the equipment?

Some rental companies offer a full-service rental. Not only will they deliver the equipment to your job site, but they will also dispatch someone to your location if routine maintenance is due. Having this kind of full-service rental is much different than having to haul your own equipment to the rental company to pick up the equipment and then transport it to the job site. Regardless of what options you have, the best way to decide what's best for you and your company is to look into the pricing of all these options, so you can truly evaluate what the most cost-effective approach will be for you.
Job Type and Frequency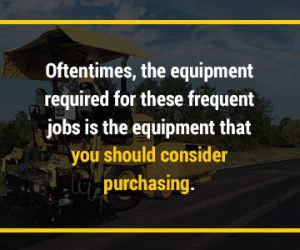 It's no secret that different types of jobs require different equipment. Chances are, your company has a few projects that you do more frequently than others. Regardless of whether those projects are excavation or paving, the bottom line is that you do them more frequently than others.
Oftentimes, the equipment required for these frequent jobs is the equipment that you should consider purchasing. That doesn't mean it's definitely the best deal to purchase. It just means that if, for example, you do a lot of excavation jobs, you'll probably want to research the cost of purchasing a piece of excavation equipment, rather than focusing efforts on comparing the costs of those few paving jobs you do every year.
This may seem like a no-brainer, but it's an important foundation to your decision. While specialty jobs come up, and provide a nice source of income, if they aren't a frequent occurrence, chances are they aren't worth purchasing equipment for.
Equipment Type
But what if there's a niche type of project that your company does frequently? Then you may want to reconsider. While rental companies are often able to provide a wide selection and customize equipment by giving you the attachments and accessories you need to get the job done, chances are good those extras are reflected in the rental price. You're paying more for it.
So, if there's a specialty piece of equipment that you use frequently, it's worth exploring your buying options. With specialty equipment, you also run the risk of not being able to get what you need from a rental company when you need it, which is a daunting thought. But, more about that later.
Job Length
Whether you're considering a common or specialty piece of equipment, their length of use comes in to play. Of course, job lengths vary. However, if you're considering purchasing a specific piece of equipment, you can estimate the average length of the job it would be used for.
If most of your projects have a longer timeline, renting may not make sense — remember, you're paying for that rental equipment to be on-site, whether it's moving or sitting. On the other hand, if you're anticipating using the equipment for shorter jobs, or only need the equipment on-site for a short amount of time, renting may be the best option for you.
Equipment Availability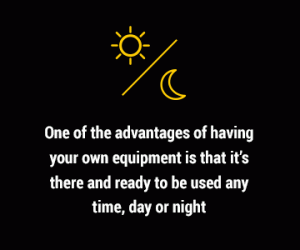 Whether your equipment needs are short-term or long-term, with rentals, you always run the risk of not being able to get the equipment you need when you need it. One of the advantages of having your own equipment is that it's there and ready to be used any time, day or night.
Regardless of how good a relationship you have with a rental company, the reality is that they have a business to run. Usually, that means rental companies meet demands on a first-come, first-served basis. If you're in need of a piece of equipment and there aren't any available for rent, then you're out of luck. Construction is in season for all contractors at the same time, and that could leave the demand for rentals above the supply.
Equipment Rental Cost
Even if rental demand doesn't leave you without a piece of equipment, it could leave you with a higher expense than what you estimated. A key component to the construction industry is bidding. Having the ability to submit and follow through on competitive bids can make or break your income. In an ideal world, your bid doesn't change.
Unfortunately, the same can't be said for rental equipment costs. The price to rent equipment fluctuates with demand. And while there is some research you can do into the trends and anticipated changes in rental costs, the reality is you will never know for sure.
On a brighter note, there's a good chance the equipment you're renting is a late model, which gives you access to nicer, newer equipment that you may not be able to afford otherwise. Besides having an opportunity to try out newer models of equipment, this also could have a positive effect on your bottom line, since newer models are more efficient to run. Having access to that cutting-edge technology may enable you to submit a more competitive bid. Who knows? Maybe you'll like the way it runs so much, you'll consider a future purchase.

So — if you submit a bid based on current prices and end up paying more to rent the equipment, you may end up absorbing that cost. However, you may end up coming out ahead as a result of renting newer equipment. Which is more likely to happen? We don't have any powerful statistics to share but, fortunately, this is only one of many factors to consider.
Operator Cost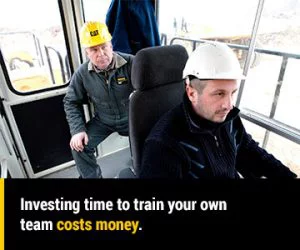 Regardless of what the piece of equipment costs to buy or rent, someone has to operate it. While excavators and lifts are fairly common and versatile when it comes to operation, other pieces of construction equipment require some in-depth training to operate. Investing time to train your own team costs money.
If you purchase a piece of specialty equipment, make sure you have someone that has been thoroughly trained to operate the equipment (accidents with construction equipment aren't cheap!). If you're renting a piece of equipment, you may have the option to rent it with an operator. That may or may not make sense for your situation, but it's something that's definitely worth considering. Don't forget: different pieces of equipment have different operator requirements. Whether you or a rental company are providing the operator, you should have proof of certifications so you know you're putting the right person in your equipment.
Company Finances
The final and perhaps most important variable to take into consideration when you're deciding between buying and renting a piece of equipment is your company's finances. Can you afford it? Before you answer, work with your accountant to do some research on the tax incentives that are available to you. There has been legislation in the past that included incentives for equipment, and there are likely to be more in the future. Make sure your accountant is thorough.
While renting equipment is a smaller initial payment, it adds up — and if you use the equipment frequently enough, purchasing a piece of new or used construction equipment may be worth it.
On another note, at this point in time, the reality may be that your company just can't afford to purchase a piece of new or used construction equipment. And that's fine. If you find yourself in that situation, but really want to make it work, you could explore financing or rent-to-own options. (For example, we offer rental purchase options — your rental payments are subtracted from your purchase price.) It's important to work with your accountant to understand how much you're spending on rental equipment and whether or not purchasing equipment might be the most cost-effective solution for you.
Next Steps
Chances are, after considering all of these variables, you're leaning toward buying or renting. The decision-making isn't over just yet, though. Regardless of what you've decided, there are additional things to consider. For example, if you've decided it's probably best to purchase a piece of equipment, will you purchase new or used? What are the pros and cons of each?
Settled on renting? Perhaps you've been renting all along and have a process in place. That's great, but to be safe, there are some questions you should have answered by any rental company before you begin working with them. We know that sometimes it's tempting to go with whichever rental company is the most conveniently located and has what you need in stock, but there are some key questions you should be asking. Better safe than sorry!
Here are a few of our recommendations for next steps, whether you've decided on buying or renting construction equipment.
Buying Equipment
If you've decided to purchase, you're halfway there. You still have a significant decision to make. Will you purchase new or used construction equipment? This decision is going to take some research.
The thought of new is always exciting — regardless of whether we're discussing a car or an aerial lift with all of the latest bells and whistles. Plus, it almost always comes with a warranty, which certainly gives you some peace of mind. The deciding factors often lie in those bells and whistles. Would they make a significant impact on your business? As we mentioned previously, the newer equipment sometimes comes with technology that runs more efficiently and can affect your bottom line in a positive way. If you suspect that might be the case, consider doing some calculations to determine if the improved efficiency is enough to warrant the additional cost over a used or refurbished piece of equipment.
If the newer equipment doesn't offer an overwhelming case for savings on efficiency, a used or refurbished model might be best for you. Do yourself a favor and put the time and effort into researching what brands and models would best serve you and your company. Sure, buying used equipment comes with its own set of risks. However, doing research on the cost of upkeep and parts on a used model may reveal that you can purchase a used piece of equipment, anticipating replacement of some key parts, and still have a better bottom line than if you'd purchased new.
While we know that buying construction equipment isn't the same as buying a car, many of the factors to take into consideration are the same. For example, depreciation is common ground. It might be worth it, but you'll want to make sure you know what makes and models hold their value, so if you do purchase new and end up selling, you know you've maximized your value.
If you're looking to buy Cat® used construction equipment, we have a wide selection of Cat and other brands of used construction equipment for sale.

Renting Equipment
If buying isn't for you, that doesn't mean you're finished with your decision-making. Not all equipment rentals are created equal! You aren't bringing this piece of equipment on board permanently, but it still needs to help you get the job done.
Here are a few questions that are good to have answered when you're renting equipment from another company:
Do you need those perks of newer equipment we've reviewed (newer technology, higher efficiency) for this job? If so, make sure the company has a variety of late models that meet your technology needs.
What is the equipment rental company's insurance policy? What does it cover? It's easy to assume rental companies are covered, and tempting to sign on the dotted line without reading ALL of the fine print. But construction equipment accidents can be expensive, so we think it's worth it.
Does the equipment rental company have responsive, knowledgeable staff members? Again, we know this company may not be a part of your team forever, but for this job, they are. If you need help selecting a piece of equipment, or run into a problem on-the-job, you want to know you have their expertise and responsiveness to rely on.
Are maintenance records available for the piece of equipment? If not, can they give you any insight into how they maintain their fleet of equipment? Since this equipment has been used by a variety of people for a variety of different jobs, it's important to know how they handle the maintenance of their equipment — and, more specifically, when the equipment you're interested in was last inspected for any issues.
Are the rental fees all-inclusive, or are there additional costs based on your use and time? The last thing you want to do is return the piece of equipment and find there are additional charges you were unaware of. It's worth questioning the fees until you have a solid understanding of how it works. You don't want your bottom line to suffer.
If you're looking for Cat construction equipment for rent, we have a variety of Cat and other brands of rental equipment available. And the best part? If you think you might want to purchase down the road, we have flexible rental purchase options available, too.

Your Best Option
Every contractor travels different distances, needs different equipment, focuses on different jobs and has different resources and funds. Because there is such diversity within the construction industry, there is no right answer. What's right for you may not be what's best for a competitor, and vice versa.
All of these variables come into play when you're trying to decide whether buying or renting makes sense. It's a lot of information. The bottom line is, you need to take time to assess your individual situation and do some research. Whether you choose to buy or rent construction equipment, it's an investment — and one you want to make wisely.
As you're doing your research, we hope you'll use us as a resource. We have a variety of new and used construction equipment for sale. If you're looking to rent construction equipment in Utah, we have more than 1,800 machines available. At Wheeler Machinery, we're ready to help you learn more about your options so you can make an educated and informed decision on what will work best for you.