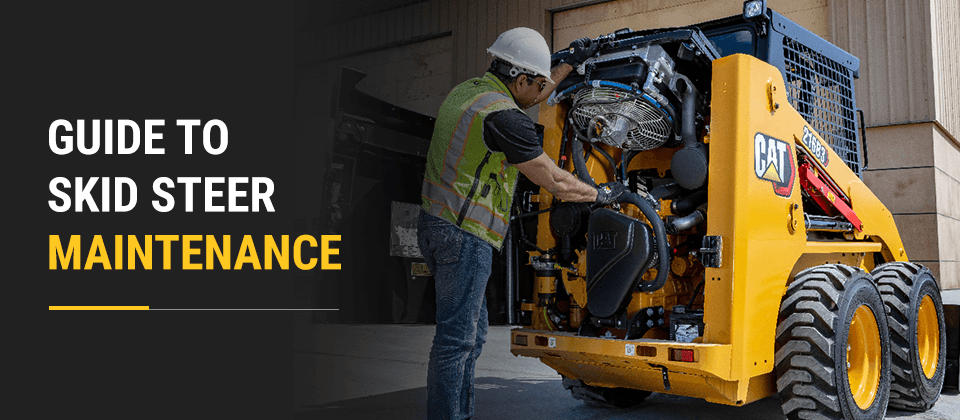 Maintaining your heavy equipment is a proactive way to keep each machine running at peak operating levels, boost efficiency and sustain a safe environment. Being proactive can keep your operations running long-term, and sticking to a skid steer maintenance schedule can help reduce downtime and costs and increase productivity.
Wheeler Machinery has a team of professionals ready to inspect your skid steer loaders and maintain each component to ensure the highest productivity levels and return on investment (ROI). But maintenance doesn't start and end with the professionals. Heavy equipment inspections also rely on consistent checkups from you and your workers.
The Importance of Regular Skid Steer Maintenance
The importance of skid steer maintenance is that it's not a one-time occurrence. Consistency can go a long way when it comes to maintaining your equipment, whether you have a single skid steer loader or an entire fleet. Compared to putting off minor maintenance that can lead to extensive repairs in the future, the benefits of preventative skid steer maintenance include:
Extend the life of your machine
Prevent major repairs and breakdowns
Limit safety concerns
Reduce the need for replacements
Increase uptime, efficiency and productivity
A simple repair put off until later can create a domino effect throughout any machine, causing major damage to the equipment. Make sure to review the original equipment manufacturer's (OEM) maintenance manuals before implementing the right schedule for your skid steer loader. Check the machine's operation manual for specific tips on each piece of equipment because recommendations are often broken down by how many hours the machine has run.
Skid steer maintenance involves daily, monthly, yearly and even seasonal inspections. Seasonal inspections are particularly vital during extreme weather conditions such as snow. During the winter, check the skid steer's antifreeze and other fluids along with the battery more often than normal. Sometimes an engine preheater can also help with machine performance.
If you're using your equipment to salt roads, plow snow or haul materials in the winter, it's best to clean the undercarriage daily to eliminate corrosive materials, prevent rust and decrease the deterioration of other materials like rubber hoses.
Cat® Skid Steer Maintenance Schedules
How do you maintain a skid steer? It isn't as simple as checking the equipment when something goes wrong. Preventative maintenance involves regular inspections by you, your team, and maintenance professionals.
Regular maintenance appointments with the experts increase the life span of your skid steer. With special tools and trained technicians inspecting your machinery, having your skid steer on a Cat® maintenance schedule can save you time and prevent major problems from arising. Caterpillar can also help you create an equipment maintenance schedule depending on hours of use. For example, we can indicate what you should expect after 10, 500 or 2,000 hours of engine use.
We also have a guide to maintaining skid steers when it comes to hydraulic, engine and drivetrain repair indicators. And when you require new parts, we have genuine Cat parts like seals, gaskets and fuel, air and liquid filters to keep your skid steer running at optimal performance levels, keeping you safe and productive.
Caterpillar is here to help protect your heavy equipment investment through a skid steer maintenance schedule tailored to your fleet.
12 Top Skid Steer Maintenance Tips
Daily upkeep on your heavy equipment fleet helps you keep tabs on each machine. You can't assume nothing is damaged, low or broken if the machine operates throughout the day. Sometimes, small issues aren't noticeable until they become major breakdowns.
Before operating your skid steer loader, follow these daily inspection tips.
Check the oil level.
Make sure all hoses and tubes are secure.
Drain water if the fuel water separator is full.
Inspect the grill for debris.
Fill the coolant if it's low.
Ensure the arm brace is secure.
Clean the air filter if needed and check for seal damage.
Inspect tires for gashes, tighten the lug nuts, look at tread depth and check the tire pressure.
Inspect tracks for debris and damage.
Add hydraulic oil if it's low.
Grease fittings when necessary.
Go through safety features in the cab like backup alerts and the display panel.
It's vital to maintain your skid steer's fluid levels. Engine oil, radiator fluid, windshield wiper fluid, coolant and hydraulic oil all help prevent wear and heat damage to the machine. Make sure your daily skid steer maintenance schedule includes checking each liquid, and that they are changed at regular intervals throughout the year. If you notice excessive fluid loss during your inspection, this could indicate a loose fitting, worn seal or broken hose.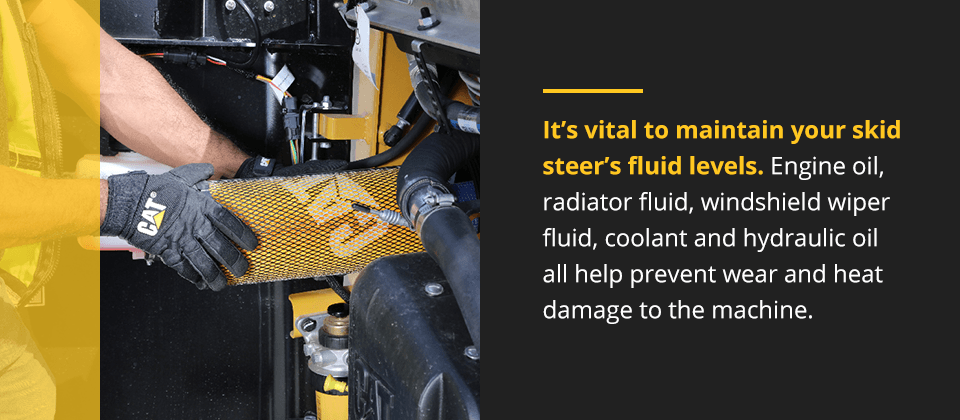 Whether your skid steer loader has tracks or tires, these components experience the most wear. Ensure proper inflation, and check tire pressure often by using a gauge and following the manual's optimal pressure numbers. Rotating tires is also an important step in learning how to maintain your skid steer. If you own a track loader, be sure to check the tension of the tracks.
Here are some additional tips for maintaining your skid steer:
Wash machines often to remove built-up corrosive elements to avoid rust damage.
Perform inspections before and after use.
Keep a written log of maintenance and repairs.
A good clean is never a bad idea. Debris, dirt and dust can accumulate under the body and on the windows, engine, radiator and other components of your skid steer. By cleaning your equipment regularly, you can help to prevent an overheated engine and faulty electrical components. In addition, a clear view through the windows is beneficial when operating in high-traffic work zones.
If you run into more major issues with the equipment in the future, you can reference the written log to see what repairs were made and when. This also helps keep everything documented when multiple operators use the same machine throughout the year.
Tips for Maintaining Attachments
The attachments on your skid steer loader need regular maintenance just as much as the rest of the machine. The first step is to work with attachment tools made for your particular make and model. Using attachments made for your equipment's horsepower and hydraulic power helps avoid damaging things like the lift arm cylinders.
Maintenance tips for skid steer attachments include the following:
Check the hydraulic connections and lift arms.
Inspect attachment tools for damage.
Clear debris from between the lift arm, work tool and coupler plate.
Pay special attention to the teeth, hoses, auger flighting and cylinders or guards.
Inspect the bushings and boom pins.
Check the boom for cracks.
Grease the pivot pins, lifting arms, bushings and cylinders.
Both your skid steer loader and its attachments require a preventative maintenance schedule to help decrease costly repairs and increase machine uptime.
Learn More About Our Maintenance Capabilities
At Wheeler Machinery, our professionals are dedicated to maintaining your skid steer loaders and other pieces of heavy equipment. The goal of our skid steer services is to keep the equipment running long-term to support your operations no matter the industry.
Contact Wheeler Machinery to learn more about our maintenance capabilities, or schedule your skid steer service online. You can also call us at 801-974-0511, or visit a location near you to receive one-on-one skid steer maintenance support.