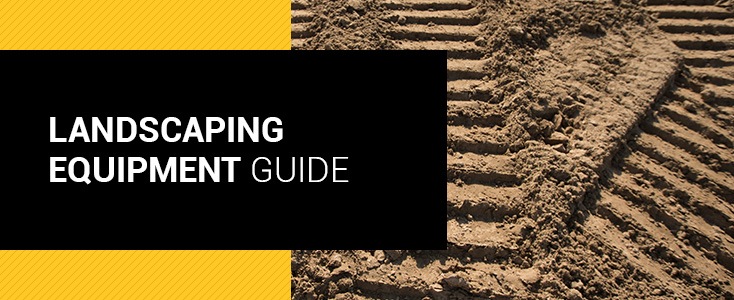 Today's commercial landscaping professionals are taking on bigger, tougher jobs. Complex landscaping projects require the right equipment to operate more efficiently. That means durable, multi-functional machinery that can dig, fill, move and grind with versatility and dependability.
Landscaping business owners aren't just concerned with getting the job done. Operators and managers need to know that their equipment is reliable — your bottom line depends on it. Despite 2018 being one of the best years for overall revenue growth in the landscaping market, owners still need to be wise about using the profit margins they do earn to invest in the best equipment possible. With over half a million landscaping businesses competing in the U.S., it's essential that business owners make smart investments in equipment that give them a leg up on the competition.
If you're a landscaping professional concerned about making the best investment in machinery, then this guide to landscaping equipment is for you. When you're looking to invest in machinery and wondering what landscaping equipment you need for the job, review this guide to help you make the smart, long-term decisions for your business.
Latest Cat Landscaping Equipment for Your Business
When you take on a tough landscaping job, you can't always be certain what you'll be up against. That's why you need tough, versatile machines that can get you through any job, no matter what surprises may come. The latest landscaping equipment from Caterpillar® is designed to do just this, whether you're clearing lots, installing irrigation, planting trees or plowing snow.
Here are some top reasons to invest in the latest Cat® landscaping equipment for 2019:
Invest wisely in quality machinery to get the most out of your profit margins, whether you're renting or buying new or used equipment.
Stay competitive by offering landscaping services the competition can't by having the right tools for the job.
Attract and retain employees and machine operators with quality equipment that makes the job easier and faster to get done.
Caterpillar offers a flexible inventory of earth moving and loading machines as well as attachments designed to face specific jobs you'll come up against on site. Caterpillar is the industry's most reputable brand for new landscaping equipment, including the following top machines available from an authorized Cat dealer like Wheeler Machinery Co.
1. Cat Backhoe Loaders
Backhoe loaders are the workhorses of many landscaping and construction sites. Despite their small and maneuverable frame, backhoe loaders are tough and versatile. As their name suggests, backhoe loaders are three pieces of equipment in one — a tractor, a loader and a backhoe. With a loading bucket on one end and an excavating arm on the other, backhoe loaders provide landscaping business owners with true multi-functional performance.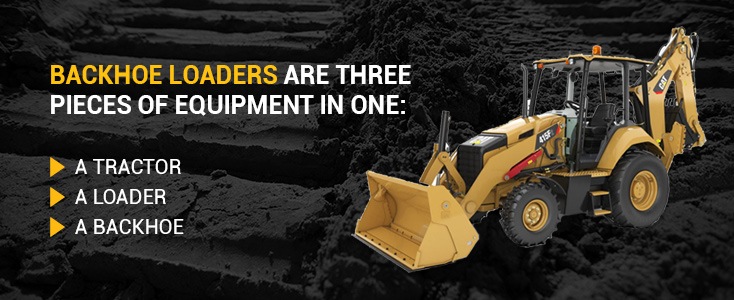 The backhoe loader operates on wheels as opposed to tracks like other loader machines designed for multi-terrain performance. But its tractor structure and powerful supercharged engine still allow the backhoe loader to move easily over rough terrain.
The backhoe loader's loading capability is designed to handle heavy or loose loads of snow, soil, dirt and debris and other landscaping materials. The backhoe loader can scoop, lift, smooth, plow and push. It can help you quickly clear away materials or easily move piles of earth around the site.
The final component of the best-selling backhoe loader is the backhoe. Operating like an arm with a hand, the backhoe gives you the ability to dig through even the hardest, toughest earth. While the backhoe is in operation, the machine operator can use the backhoe loader's stabilizing legs to alleviate strain from the tractor and keep the machine steady against the force of the downward digging.
The backhoe loader is best-suited for digging irrigation ditches and trenches, which can then be backfilled in by the loader function. If you're considering a backhoe loader to add to your inventory of equipment for landscaping, then here are some essential specs about backhoe loader models:
Horsepower range from 87 to 127
Dig depth from 14'3" to 17'2"
Operating weight of 14,881 to 24,141 lbs.
Get more information about Wheeler Machinery Co.'s inventory of backhoe loaders for sale or rent.
2. Cat Skid Steer Loaders
Like the backhoe loader, the skid steer loader is a highly versatile piece of machinery found on landscaping jobs. A small and maneuverable machine, the skid steer loader is still powerful enough for tough earthmoving and plowing tasks. Skid steer loaders from Caterpillar are popular because they're tough but light enough to tow behind a pickup truck. And they operate hydraulically, meaning no mechanical transmission.
On the job, skid steer loaders can turn in their own tracks and operate in tight spots. Skid steers can lift, plow, push and scoop virtually any materials found on site, including soil, mulch, debris and snow. When outfitted with the right attachments, the skid steer loader can provide earthmoving capabilities much like the loader on a backhoe. It can even grade lots and jackhammer cement. Skid steers operate on wheels and can dutifully travel across uneven lots.
Skid steers come in several sizes and performance levels, with the larger models being more suitable for road construction and the smaller models working well for residential landscaping and maintenance. Somewhere in between, you'll be sure to find the right skid steer loader model for your landscaping jobs.
Skid steer loader models offer the following range of specs for your consideration:
Horsepower range from 56 to 106
Operating capacity of 1,500 to 3,700 lbs.
Operating weight of 5,822 to 9,137 lbs.
Choose the right skid steer loader from Wheeler Machinery Co. for your landscaping jobs.
3. Cat Compact Track and Multi-Terrain Loaders
What if you could get the versatility, power and compact size of a skid steer loader but with rubber tracks? Compact track and multi-terrain loaders offer this exact combination. Also known as tracked skid steers, compact track and multi-terrain loaders are excellent landscaping machines for sites with soft ground that could otherwise cause wheeled equipment to sink and get stuck. Or, use multi-terrain loaders when traveling over turf that needs to be protected.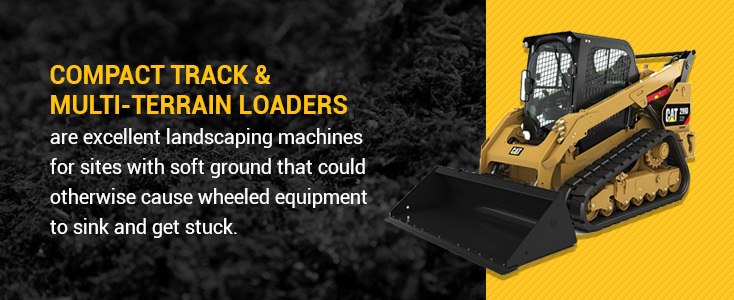 Tracked loaders' rubber tracks are designed to move the machine's weight over greater contact surface area, creating stability, traction and flotation over rough, uneven or sensitive landscapes. They can accomplish any of the same tasks as a skid steer loader, including pushing, scooping, smoothing, lifting and plowing.
Attachment-friendly like all other Cat loaders, compact track and multi-terrain loaders can perform any task, including grading and planing, raking, tilling, trenching and filling.
When thinking of adding a compact track and multi-terrain loader to your landscaping equipment fleet, consider the range of specs that Cat models offer:
Horsepower range from 56 to 106
Operating capacity from 2,150 to 4,650 lbs.
Operating weight from 6,997 to 11,612 lbs.
Discover the right compact track and multi-terrain loader for your landscaping business at Wheeler Machinery Co.
4. Cat Wheel Loaders
If you regularly take on larger landscaping, construction and irrigation jobs or are planning on offering these more robust services soon, then a wheel loader from Caterpillar can help you get the most out of your equipment's performance. Wheel loaders offer similar functionality as other Cat loader machines but with greater capacity. Given the machine's name, you'll know that Cat wheel loaders are loader machines on wheels instead of tracks, though they're still designed to move with stability over rough, uneven terrain.
Though wheel loaders offer bigger load capabilities, they're still versatile, compact machines. They offer greater reaching and lifting abilities and their larger structure provides the operator with better visibility. Cat wheel loaders come in a range of performance models, including the compact size and medium series, which are suitable for landscaping professionals.
Compared to skid steer loaders and backhoe loaders, wheel loaders simply move and lift bigger material amounts. Recognized by its iconic front loader shovel, the wheel loader's classic attachment makes it a suitable machine for heavy pushing and loading of earth, gravel, sand and snow. Use wheel loaders to reliably shovel the ground or effortlessly move materials from one spot to another across most lots.
If you're already the owner of a smaller machine like a skid steer loader from Caterpillar, then you don't have to worry about investing in an all-new set of attachments when you're ready to step up to the wheel loader. Most skid steer loader attachments you're already familiar with are compatible with Cat compact wheel loaders.
Here are some of the specs you can expect from Cat wheel loader models:
Horsepower range from 69 to 169
Height at max lift 10.6 to 13 feet
Operating weight 12,412 to 35,104 lbs.
Operating capacity 1.18 to 6.5 cubic yards
Browse Cat wheel loader models for landscaping at Wheeler Machinery Co.
5. Cat Telehandlers
Telescopic handlers, or telehandlers, are an especially versatile piece of landscaping equipment that acts as a crane-forklift hybrid. Though notably useful for tree care and removal, telehandlers offer plenty of other functions too. Operating on rugged wheels with a sturdy frame, telehandlers can navigate rough terrain while still managing to operate well in tight spots.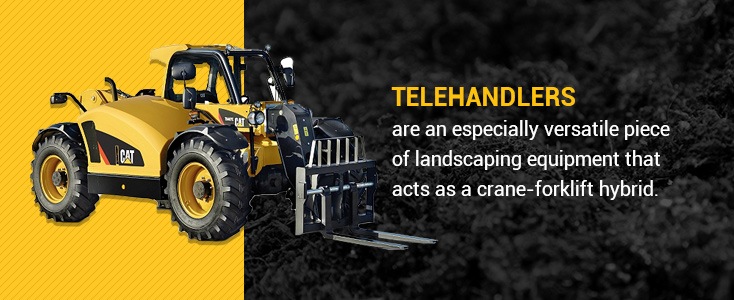 Considered primarily a lifting machine, telehandlers have a telescopic or articulated boom, extending like an arm forwards and upwards from the machine. Telehandlers are useful in a wide variety of landscaping scenarios. Bucket attachments allow the telehandler operator to lift and move earth, debris and materials around the site. With broom and brushcutting attachments, the operator can quickly and efficiently clear and clean lots.
They're perhaps most valuable for tree care experts, given that the telescopic arm allows for precise access to tree parts that would otherwise be out of reach. Tree care professionals can use the telescopic boom to monitor tree health and safely prune away limbs.
Telehandler models from Caterpillar range in performance levels, with most lighter duty machines working well for landscaping purposes. Some models even offer stabilizing legs, giving your operators a sense of additional security when operating during longer lifts.
If you're considering an investment in a Cat telehandler, here are some of the specs offered by our range of Cat models:
Reach length and height from 10 to 32 feet
Load capacity from 5,500 to 12,000 lbs.
Operating weight from 11,000 to 35,860 lbs.
Review Wheeler Machinery Co.'s inventory of telehandler models.
Top Cat Attachments for Landscaping Equipment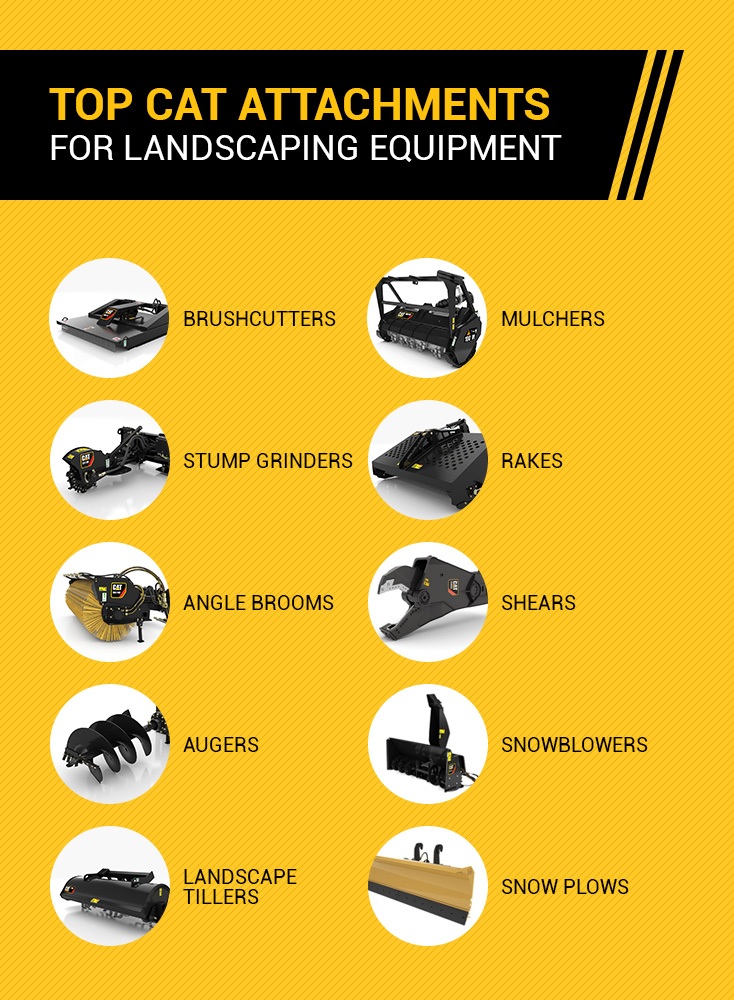 Specialty attachments help you get more functionality out of your landscaping equipment investment. They increase the number of tasks your fleet can perform on any given project, helping you to conquer any job productively and safely.
If you're looking to diversify your landscaping equipment fleet, consider adapting your machines with any of the following Cat attachments for specific applications:
Renting vs. Buying Your Cat Landscaping Equipment
Once you've decided on the right landscaping equipment for your business, you have yet another important decision to make — to buy or to rent. Both options have their value while each has its drawbacks.
Renting is the more economical choice upfront and requires less financial burden when it comes to maintenance and repairs. It's usually the safer bet if you're starting out, branching into offering new services or don't yet have the capital outlay required to buy. If you already own a core inventory of equipment and you're looking to try out new machinery, then renting is a great option to test the waters. While renting landscaping equipment keeps nominal costs low, it doesn't add net worth to your business like owning your machinery does.
Buying landscaping equipment is like playing the long-game. It's an investment you make in the future of your business because it builds equity. Buying equipment also makes more sense when using it frequently enough. It pays for itself in the number of jobs you'll be able to fulfill. The main drawback of buying your equipment is the maintenance costs and sudden repairs are your responsibility. If you're thinking of buying landscaping equipment, make sure you follow a regular preventative maintenance program and ally yourself with reputable technicians.
Choose Wheeler Machinery Co. for Your Landscaping Equipment Needs
When you're ready to add new landscaping equipment to your business offering, trust Wheeler Machinery Co., Utah's authorized Cat dealer. Competing in the landscaping market means you need tough, reliable equipment that will help you get jobs done faster, safer and more efficiently.
With options to rent or buy new or used landscaping equipment, Wheeler Machinery Co. has all your needs covered and can help you select the right piece of landscaping equipment for your business. We've partnered with landscaping industry professionals since 1951, helping our customers achieve greater success and profitability.
Explore our landscaping equipment options or contact Wheeler Machinery Co. today. Call 435-753-5505 to learn more about new landscaping equipment.