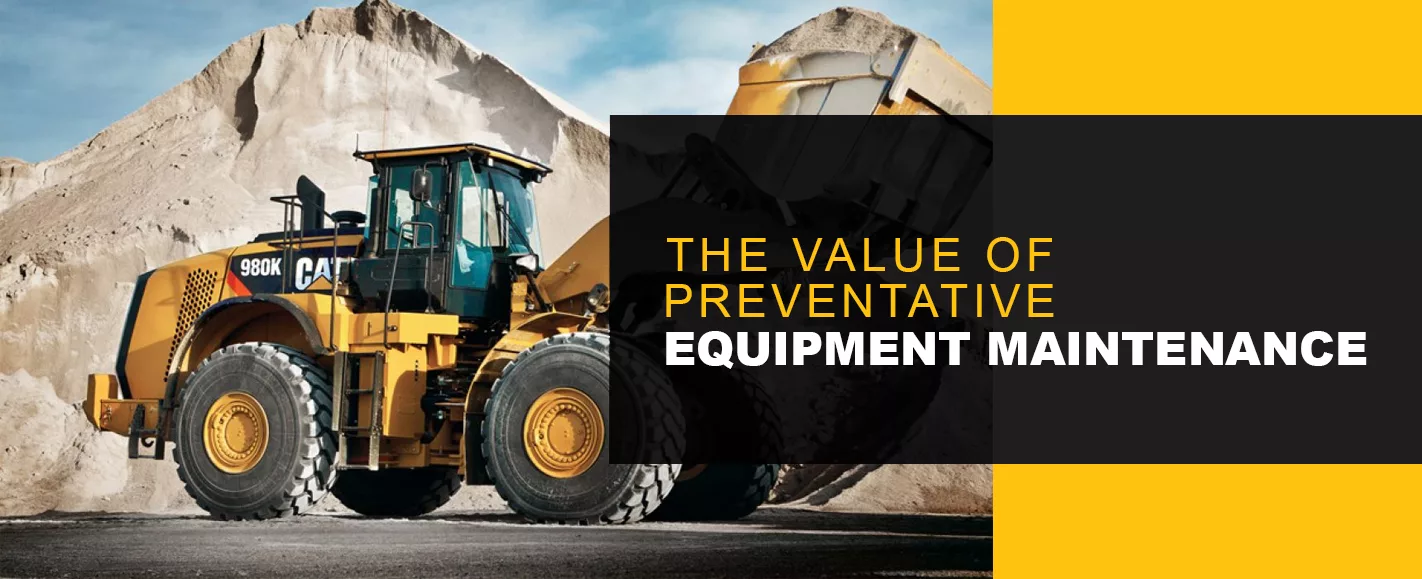 Preventative maintenance for your heavy equipment is seemingly straightforward and something you know you should be doing — yet it easily falls by the wayside.
Why is that? You hardly need reminders on the importance of preventative maintenance for your fleet, the security and profitability that comes with inspecting equipment, making preemptive adjustments and finding issues before system failures strike. And you certainly don't need to be told the cost-savings that come with proactive rather than reactive repairs — savings which start at lower operating costs and end with a higher resale rate.
Yet the value of preventative maintenance for your heavy equipment is twofold — the kinds that affect your wallet and the kinds that affect your brand.
Preventative equipment maintenance is essential to establishing consistent protocols for protecting the performance and safety of your investment, yes — but it's even more important to build your business legacy. These days neither can be neglected.
Importance of Preventative Maintenance for Heavy Equipment
Preventative maintenance is more than caring for and managing your fleet.
These activities are fundamental, keeping your worksites efficient and your bottom lines under control. But when they aren't backed by a complete understanding of the following, then their actions can't help but turn empty.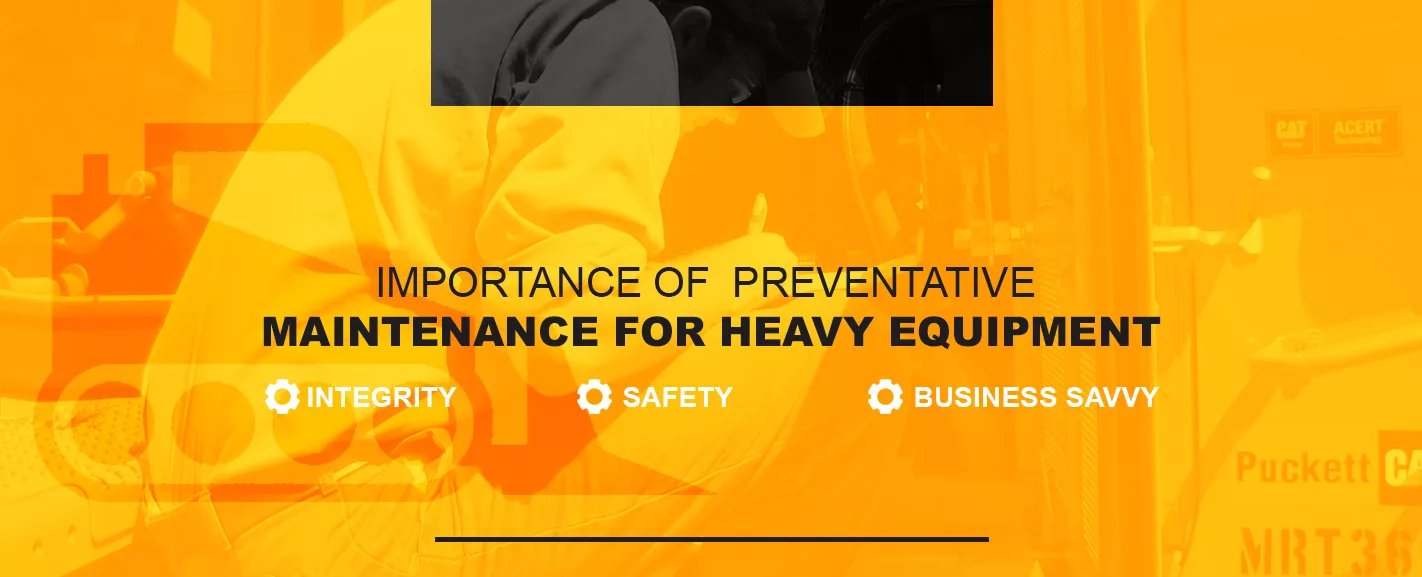 1. Integrity
That's right — we're starting the list with integrity. That's because the true value of preventative maintenance lives at the intersection of professional responsibility and personal commitment. It's a promise you make to yourself, your employees and your clients that you don't settle for skirting the bare minimum to operate your business. You exceed expectations.
A comprehensive preventative maintenance plan drafted for your fleet helps make this promise a reality. It lends you a stamp of operational integrity, putting your money where your mouth is.
Anyone interacting with your fleet and crew will know the gravity you place on doing things correctly at every stage, every day, not just when problems arise. It's a commitment that goes a long way to those both inside and outside the industry, with integrity as the backbone to your fleet's reputation.
2. Safety
Parts replacements, fluids analysis, oil changes — these things might seem like details so perfunctory you hardly pay them mind. But as the saying goes, the difference between something good and something great is in the details.
Few places is this truer than when it comes to heavy equipment safety. Preventative equipment maintenance schedules prioritize safety because they aren't satisfied with the surface appearance of things. They dig deeper, identifying risks or inefficiencies before they turn into real safety hazards, improving end-to-end safety and making the conditions for everyone who sets foot on your worksites a priority.
3. Business Savvy
Neglected equipment is more likely to be fuel inefficient, stall, stutter, overload or see entire system failures. This means unplanned downtimes and scrambling to find and fix errant parts — which, in turn, means idle employees, halted production and hits to your bottom line that you may never recover.
If that weren't enough, consider the broader implication of how all this comes across to the outside world. When contracts aren't followed, timelines fall behind or costs consistently balloon, you curate the impression this is just "business as usual" for you and your crew. Once this becomes associated with your reputation, good luck getting it to change.
No business owner, site manager or equipment operator wants to run their operations with so much risk and waste. It runs counterintuitive to the business decisions so at the heart of the industry and the growth mindset it takes to succeed.
Value of Preventative Maintenance
Adopting a preventative maintenance plan for your heavy equipment not only helps you with the intrinsic values described above. It carries serious bang for your buck.
That's because the monetary value of preventative maintenance comes down to operating costs — how it affects them, preempts them, informs them and ultimately reduces them. See for yourself the numbers-backed relationship between maintenance plans and operating costs in step-by-step detail below.
1. Overall Cost of Heavy Equipment
The following values are used to calculate the actual operating costs of a piece of heavy machinery or equipment, both for their annual, cumulative rates or if looking to budget costs by the hour:
Cost of labor, most pressingly operator wages and benefits
Costs of specialty labor, typically in the form of additional operating or maintenance professionals needed throughout equipment lifespans
Inevitable replacement part cost estimates, from smaller components like filters and belts to more substantial costs like routine tire replacements that average nearly $10,000 per swap
Servicing cost estimates, from preventative maintenance plans to situationally hired help, like lube trucks, brought on to service or conduct part replacements
Operating necessities, most notoriously fuel costs and lubricant costs but also variables like transportation and storing the equipment when not in use
Cost of use, from hours in operation to salvage value years down the road. These are the final variables used to conduct the actual cost-value analysis of owning a piece of equipment. They can be calculated using number of any one of several industry mathematical formulas.
Overall, the cost of owning and operating heavy equipment is substantial. Conservative estimates put fixed cost figures between $25,000 and $35,000 annually depending on the type of equipment, while others can run upwards of $80,000.
2. Repair Costs of Heavy Equipment
Repair costs are those accrued from unexpected equipment breakdowns. They can affect single components like an injector or — worst-case scenario — lead to complete and exorbitant system failures.
Repair idle times: Research from Caterpillar found that repair idle times range between 400 and 800 nonproductive hours per machine per year.
Repair costs: Repair costs average $1,560 up to $3,120 per year just to replace the defective component.
Repair costs and profit: Just a one percent drop in equipment productivity can cause a 2.75 percent drop in total project profits.
Repair costs are not factored into the fixed operating cost estimates above. The reason for this is intuitive — there's simply no way to predict these breakdowns ahead of time — that is, no way without a preventative maintenance plan.
3. Bottom Line: Preventative Maintenance Costs vs. Repairs of Heavy Equipment
Preventative maintenance plans are the fundamental way to address all the equipment expenses described above — both fixed operating estimates and repair costs.
In fact, studies have found that in total, reactive maintenance — like those with repairs and unplanned servicing expenses — cost businesses three to four times more than the average preventative maintenance plan. That alone makes these plans worth their salt.
Still not convinced? Consider how preventative maintenance targets nearly every operational variable, risk and cost involved in owning heavy equipment:
It reduces both the rate and costs of major repairs, therefore decreasing equipment downtime and employee idleness.
It reduces the use of specialty or situational labor, especially those which cost overtime.
It decreases the chance of premature machinery replacements and balances the industry's 50/50 repair vs. replace rule in favor of more cost-effective, economic rebuilds.
It analyzes fuel efficiency and usage so you can set more informed fueling and fluid schedules.
It increases the lifespan and salvage value of machines.
It reduces the overall operating cost of heavy equipment.
Risks of Not Practicing Preventative Maintenance on Your Equipment
Preventative maintenance is an investment. A little today goes a long way tomorrow, with plans translating into a leaner business budget and improved resource allocation backed by tangible costs-savings, not just feel-good practices you don't know are paying off.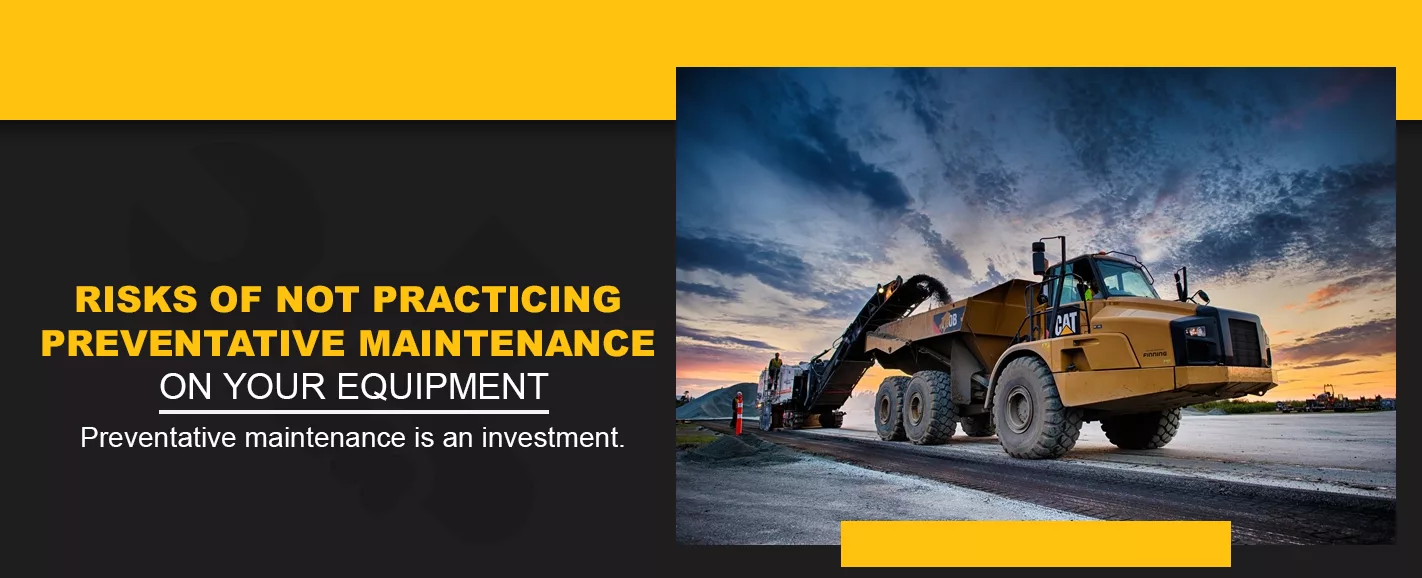 In other words, the money you put in it today will see its value compounded tomorrow to mitigate the following concerns:
Mistreat your most valuable assets: It's likely that without preventative maintenance, you'll see individual equipment and residual fleet value depreciate quicker, operators encounter more problems, fuel prices add up, and dashboard equipment readings fluctuate. You'll end up with a machine that nickels and dimes you at nearly every project rather than a high-functioning, high-value business asset you give the respect it deserves.
Work harder, not smarter: Many of today's preventative maintenance plans in Utah come with Condition Monitoring, a contemporary, around-the-clock set of equipment data and digital health reports. Wheeler uses Condition Monitoring to provide constant, real-time diagnostics on many of our clients' heavy equipment, all to help optimize their fleets with the most accurate performance metrics and information. Anything less means you're playing guessing games and working harder with your machines, not smarter.
Fall behind competitors: Other firms and contractors will soon outpace you in terms of productivity and profitability. Their equipment inspections, testing, servicing and repairs will be integrated into everyday operations, not relegated to case-by-case emergencies without clear schedules or ownership.
Throw away money: There's no sugar-coating it — you are throwing away money if you don't have a preventative maintenance plan. They save you money. They give you more predictable cost streams, track actual fleet performance levels and let you better plan for the future. Plus, with many of today's digital diagnostic tools, you get reports on the health and capabilities of your equipment with a breadth of analysis unlike most manual-only inspections before. Anything less than this and you might as well cut a hole in your wallet.
Key Types of Preventative Maintenance
Providing diagnostics, mitigating repairs, reducing idle hours and fuel burn, improving fleet hours — these outcomes are at the heart of preventative maintenance's value and are what operators and managers come to expect when following a plan.
Yet no matter the plan, provider or customer service agreement, the overall goal of preventative maintenance remains the same — to create consistent administrative and operational protocols so that your most significant investment — your fleet — is optimized for years to come.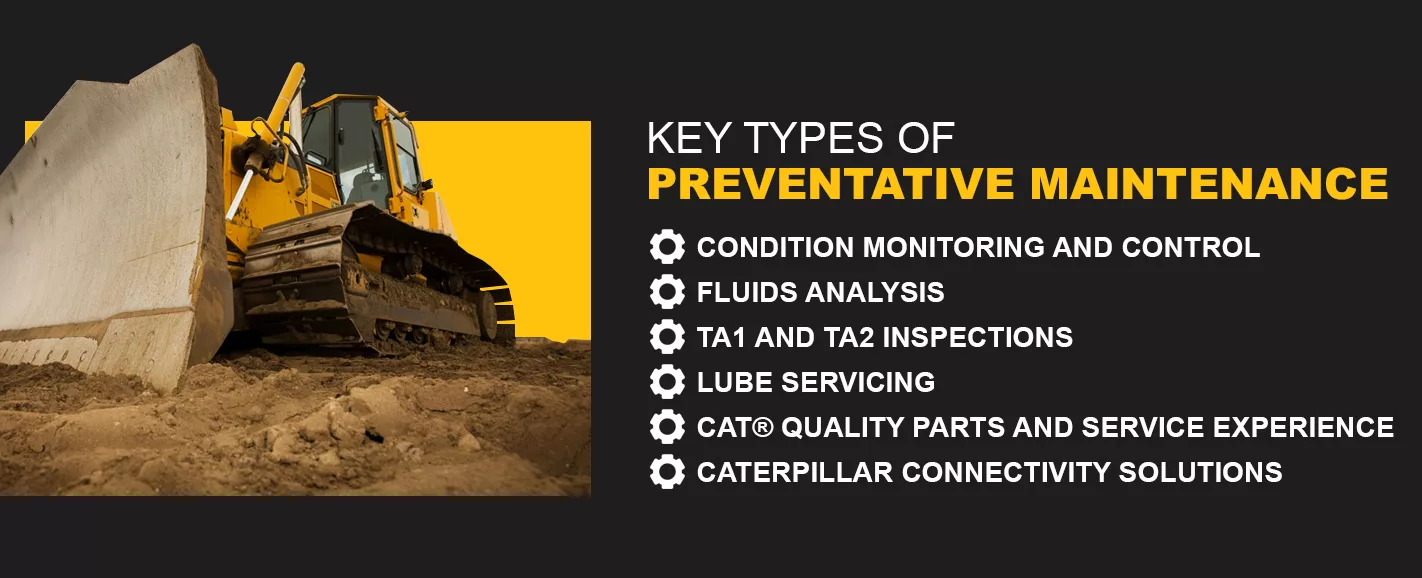 1. Condition Monitoring and Control
Condition Monitoring and Control sees things about your machines eyes and ears can't.
Simply put, it's a digital-analytic system allowing you to monitor your fleet remotely, in real time. The software produces full health reports through the assistance of data analysts and technical experts so you can fully assess its contents, interpret information and create tailored, cost-effective action plans.
These action plans provide the blueprint to scheduled repairs, equipment enhancements and other services included in the customer service agreement, helping the machines run as profitably as possible.
2. Fluids Analysis
Fluid inspections and analysis are the backbones of preventative maintenance. They're so important, some industry experts have even likened them to taking a blood test. You simply can't understand the true internal workings of your equipment without one.
The fluids-analysis arm of preventative maintenance will set up scheduled sample fluid extractions from your machines. They'll port these samples quickly to a lab, where in-depth tests will be performed on oil, fuel and coolant liquids. There, everything from microbial growth to trace metals can be analyzed to identify the component likely at their source. For example, high levels of chrome in an oil sample could point toward ball-bearing wear and tear, which you can then proactively address.
3. TA1 and TA2 Inspections
TA inspections take a microscope to your machines. They are equally vital parts of a preventative equipment maintenance plan and will likely assess all major machine parts and systems, including:
Undercarriage
Tires
Tracks and frames
Attachments and implements
Brakes
Safety items
Performance tests, from engine and transmission to pumps
S.O.S fluid samples
4. Lube Servicing
Lube services are another key element in planned maintenance agreements. From swapping out waste oils and coolants to properly filtering in new fluids in preparation for changing weather, a lube service package takes a considerable condition and maintenance concern off your shoulders.
Some preventative maintenance partners in Utah, like Wheeler, even offer Mobile Lube Servicing. Lube trucks fully outfitted to complete sampling and fillings come to your worksite, on your time, wherever and whenever it's most convenient, not the other way around.
5. CAT® Quality Parts and Service Experience
A name like Caterpiller isn't trusted because it's big. It's trusted because it manufactures machines that get the job done, time and time again.
This is no different to what a quality preventative maintenance customer agreement can do. When you have a reliable team of partners helping you not only maintain but maximize your fleet — and doing so reliably and expertly — then you're on your way to the safe, savvy and integrity-first operations so imperative to our industry.
Simply put, this is why we at Wheeler Machinery Co. provide complete preventative maintenance plans backed by Cat®-branded parts, components, technology, training and more. It's a full suite of services to ensure the heavy-equipment stars in your lineup don't fade — at least under your watch.
6. Caterpillar Connectivity Solutions
Cat is proud to offer two convenient online platforms to take your fleet monitoring to the next level: My.Cat.com and VisionLink. My.Cat.com is a digital equipment hub that allows you to monitor and manage your entire equipment fleet – including Cat and other equipment brands – anytime and anywhere! VisionLink is a complete telematics solution that provides equipment data down to the minute on machine locations, when they are running, opportunities to increase productivity and more. To take this a step farther, the VisionLink Unified Suite is now available, which provides actionable machine data to help make informed decisions on logistics, equipment service, and more to improve your bottom line.
Put simply, My.Cat.com provides an overview of data for an entire fleet, while VisionLink provides granular data about individual machines. Using these online connectivity tools can make managing your fleet's service needs easier than ever before.
Wheeler's Preventative Maintenance Services in Utah and Beyond
Wheeler Machinery Co. is in the business of helping your business, one machine at a time.
It's why we say we partner for your success — and mean it. Headquartered in Salt Lake City, Utah, but serving clients as far as Wyoming and Nevada, we have 10 flagship regional offices and 75 field-service trucks to fully deliver on our service promises.
Wheeler is especially proud of its range of preventative maintenance packages. You call the shots through a custom Customer Service Agreement, then we provide the solutions, from routine TA inspections and replacement-part sourcing to our mobile lube servicing.
Give us a call at (435) 789-0635 or reach out online to learn more about our preventative maintenance offerings, or inquire about a direct service today.